Winner is
post number 56
A Happy Hippy Mom said...
I'm a fan of Bumbleride on Facebook.
December 8, 2009 11:58 PM
The winner has 48 hours to respond or I will draw again!
Just before Thanksgiving I received the
Bumbleride Indie Twin stroller
to take for a test drive. This stroller is the luxury SUV of strollers in my opinion.
The
bumbleride Indie Twin
is a double side by side stroller. When I first got the package, I did have to put it together of course. Now I will admit, I am one of those people who looks at an item and attempts to put it together without reading the directions, about 8 times out of 10 I am able to do so with no issues.
This stroller was one of the 2 out of 10. I studied it and studied it for a good twenty minutes before I gave in and looked at the directions. Once I got going though from the directions, I was able to catch on a little easier. So it is one of those things you will want to read the directions first. Also keep in mind, I may not be completely on top of my game, as I do have pregnant brain these days.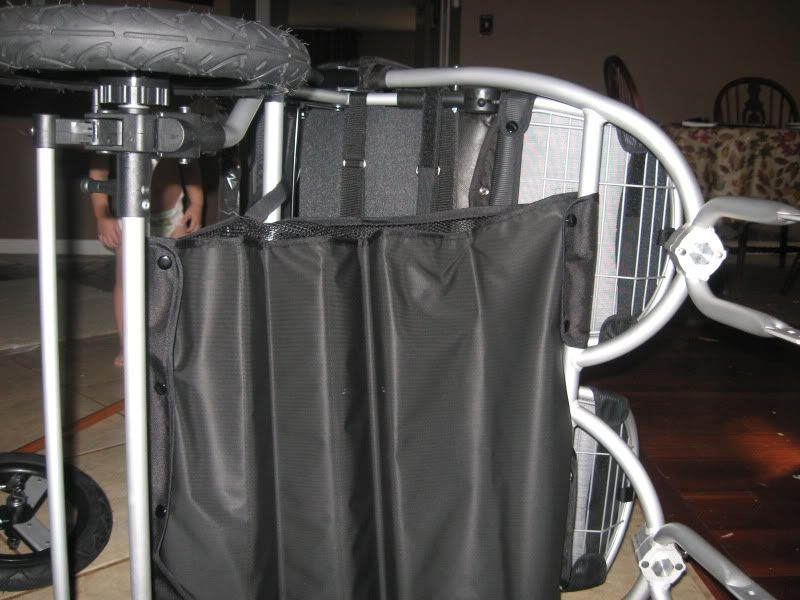 In an ideal world, you really want just one product that does it all. For example a car, (yes over the last couple of years I have come to compare strollers to cars now) In a car, you really want something that kind of does it all. Safety, smooth driving, roomy, great price, great gas mileage and many even want the ability to entertain. (I know its great having that DVD player for those really long driving trips.) In my personal opinion several of these apply to strollers. I believe you'd even be able to put an attachment for a portable DVD player on the stroller. Wouldn't that be nice! Imagine a little entertainment area set up on this stroller. You could easily play the Your baby could read DVD's.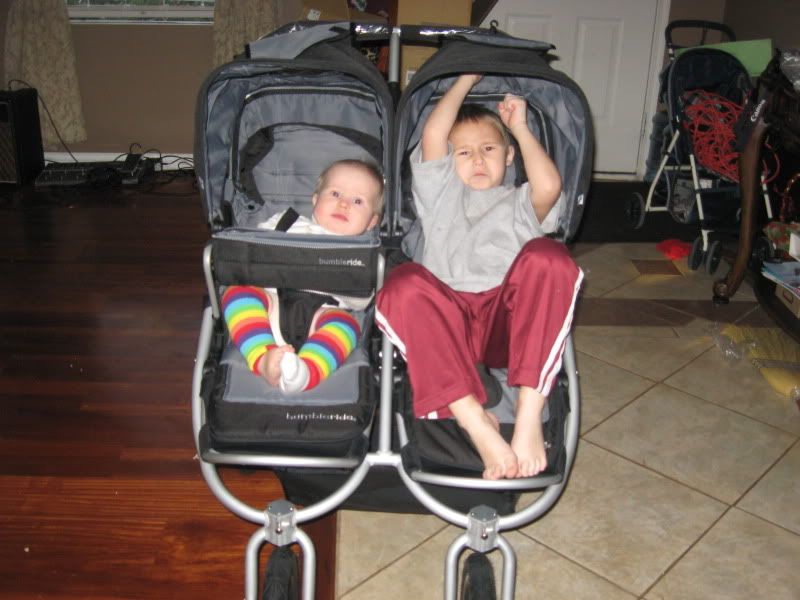 Some of the features on the Indie Twin that I have to point out because they really do think they make or break the stroller in the regards to its use.
The brake is the first I would like to point out. Many strollers have the exact type of brake that the Indie Twin has, the big bar that you lift up or push down. Now while I have to admit, I hate pushing up the bar when I am ready to move, I have found this type of brake doesn't work very well on every stroller that has it.
This is a BIG safety feature that I will have to point out. The Indie Twin, while hard to push up and down the brake, it doesn't move when you have that brake on. That is important when you're trying to get your kids out and in the car etc, or out of the car, and into the stroller, for obvious safety reasons. One in and one out, you need something that won't move. This brake has held up very well, and kept the stroller from moving.
Now granted, you can't be lazy and not put the brake on and expect the stroller to not budge when moving it. This would mean user error.I do know a few people who would attempt that one.
I start with safety, as we all know, that when it comes to kids, we need a safe environment, especially in a stroller. I think that the brake really has to be my most important feature when using a stroller, especially now, after we've seen what can happen in the blink of an eye. I've seen lots of strollers who use the bar as the brake, but even with the bar up, the stroller will move a good ways forward or backwards when getting your child in and out.When you have kids, you know, accidents can happen even when you think you've done everything to prevent it.
The Bumbleride Indie Twin has 4 wheels. The front two swivel and also lock into place for brisk straight walks. When my husband first looked at the stroller he was upset with me at first, as men usually do not pay attention. The wheels were locked. His very first response was, you can't turn it.
I have seen other strollers, with the front wheel swivel as well, that were hard to turn.
At this point I had already had the opportunity to play with it a little bit, and had already found that feature out. I pointed it out. He unlocked it and went on to explore the stroller without saying anything else.
I do believe this swivel feature is imperative for turning a stroller smoothly. And the Indie twin does make very good use of the swivel front wheels. I also liked that it did lock into place as well for those straight walks.
The swivel wheels play more than just a safety roll as well. When the front wheels are locked into place, it does not make for a wonderful turning. But of course, the key is, the swivel wheels should really be unlocked when moving, and it probably is best locked when loading and unloading,along with the brake.
We all need room in our strollers. My third little man is a big boy. We do have a small umbrella stroller that we got years ago. At a year old, he fits up the stroller all the way. He will not fit in that stroller much longer, as he really does take up pretty much the entire stroller. So having room to grow, because we all know, babies are being born bigger. I believe there was a 15 pound baby born not too long ago so I am sure this mom, knows exactly what I'm referring to when it comes to big babies!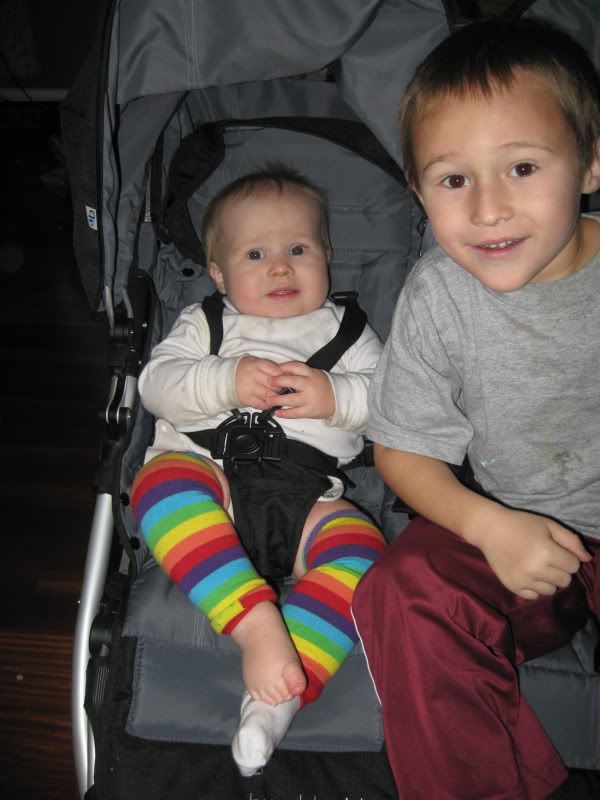 I know myself first hand about having a big baby (ok maybe not that big, but he was big compared to all of my friends little ones). Not all one year olds can walk, and not every person can carry a one year old thats 25 to 30 pounds on their hip everywhere they go. And to have to buy another stroller because they grow out of the one you have. Well, after a couple years and you have another baby, I can see, you need to buy another stroller to get a double, but having to buy another stroller for the one because of size, well, it defeats the purpose, and keep in mind, even umbrella strollers aren't cheap these days. So as I've ranted enough about that the point I was making, was that you need room to grow for these kids now a days.
Not every stroller you get can be used for a newbie, and the carseat attachment feature is nice, but not something I will use. We didn't use a carrier for very long with our third, and chances are, since I have a convertible carseat sitting in my nursery awaiting the birth of this baby, I will not use a carrier for very long with this little girl. So it's important that I have a stroller that will work well with a newborn without a car seat carrier. While many strollers say they work well for newborns. Some companies have different versions of what works well.
The Indie Twin, will work for a newborn, as it does have the ability to lay all the way flat. And then it has the ability to attach a car seat, as well as another option to purchase a carry cot. If I can use one stroller from birth to todllerhood, in the long run, I'm saving a ton of money.
Not everyone has an SUV, and despite having an SUV myself, I still feel the Bumbleride Indie Twin stroller doesn't fold down flat as I think it could. I do like the way you can carry it by the handles on the back. That was a nice feature in putting it in my car. However, I do feel its bulky, and taking it out of the car and setting it back up was a little tricky. You can't do it one handed that is for sure. But if you have a full size SUV you will not have any problems at all getting it in and out, so that is something to always be sure of. This is where I think it'd be great if the baby stores gave you the ability to test it (with an employee there of course) checking to make sure that the specific stroller you're looking at will fit properly in your car. Purchasing it and then taking it back somewhat defeats the purpose of really learning about a stroller prior to getting it.
On the bottom of the stroller there is plenty of room for the items like diaper bags and such, which is going to be a must have for me when this 4th comes along. I almost think I need to carry a diaper bag for the older two, and one each for the younger two.
You need a good price on a stroller as raising a baby isn't cheap by any means, and raising more than one within just a few years age difference, or in my experience (or rather soon to be experience) 16 months apart. You need affordabilty. But as prices go up on everything else, so did the price of strollers.
Now needless to say, even the usual brands have gone up in price. Basic umbrella strollers can ring in at 100.00 now a days. I remember when they were 10 dollars.
Now there are strollers in all price ranges. The Indie Twin is a little more expensive than some, however, I have seen strollers that aren't anywhere near a comparision in quality, and they are the same price.
The Bumbleride Indie Twin is retailed at 659.00
. Right there in the middle when it comes to price, but I will say despite it being so big, it really is of better quality when it is compared to other strollers, that are the same price, and some that are even more than this one. But again, I would have to say, that despite its price tag, buying a cheaper stroller will end you up the same price in the long run. If you have to keep replacing it, how is that saving any money?
All in all, they made a great stroller which my kids loved as you can tell, even my 6 year old.
And just in time for a great Christmas present to you! One lucky reader will win their very own Bumbleride Indie Twin stroller.
For the first entry and mandatory entry.
Check out the Bumbleride website and comment on what color you like the best and answer this question about the Indie Twin." Is the Indie Twin a jogging stroller?"
Extra Entries:
**Become a fan of Bumbleride on
facebook
or follow Bumbleride on
Twitter.
Leave a comment or two if you did both.
**
Follow my blog
or subscribe to my blog and leave me an entry saying you did or are already a follower. Two Entries, so leave two comments for this one.
** Blog about my giveaway and leave me a link to it in my comments, you can do this once a day.
** Tweet about my blog- you can do this once a day and leave me a link each time.
All entries must be recieved by Dec 20th 11:59PM CST. I will use Random.org to choose the winner.
Leave a Comment